Good Morning Friends! It's another Monday, but don't let that get you down! Monday's can be super awesome, especially here at Blue Heart Scraps.
This time around we're chatting up Cherry.
The Basics:
Hi! My name is Cherry, I'm married and I have one daughter. I'm currently staying at home playing and taking care of my little one and my family.
How long have you been on the Blue Heart Scraps CT?
I'm just new to the group, I was accepted February of this year (thanks to JL 
 )

Tell us about your scrapping experience: Did you ever paper scrap? When did you start digi-scrapping? How did you get started?
I was a paper scrapper since my college days, making cards and simple layouts for friends and families. Then I learned of digital scrapbooking in 2009 when I visited a paper scrapping friend's blog and saw one of her follower whose onto digital scrapbooks. I checked on her blog and learned about 'photoshop' and 'digiscrap.' So after a week of reading her blog and other links, I bought my own PS CS3 and PSE 7. Since then I got hooked on the neatness, clutter free and simplicity of digital scrapbooking.
What program do you use?
I'm using Photoshop CS3 and Photoshop Element 7
Can you share a tip or a piece of advice for your fellow digi scrappers out there?
Hmm.. I'm very particular with the shadowing, I think it makes a lot of difference in the way a layout is presented. And also, when you are done re-sizing your layout for web posting, it would be best if you will use filtering. Now that will make all the difference when posting on your online galleries.
Tell us something different about you
I am a teacher. I still use 'am' because that is who I am. I used to teach preschool, grade school and high school before I decided to stay at home and take care of my family 24/7. I have always dreamed of going to the European continent. I want to visit Paris, London and Italy and Rome, someday.
What is your favorite layout you've made using Blue Heart Scraps products?
It would be this one: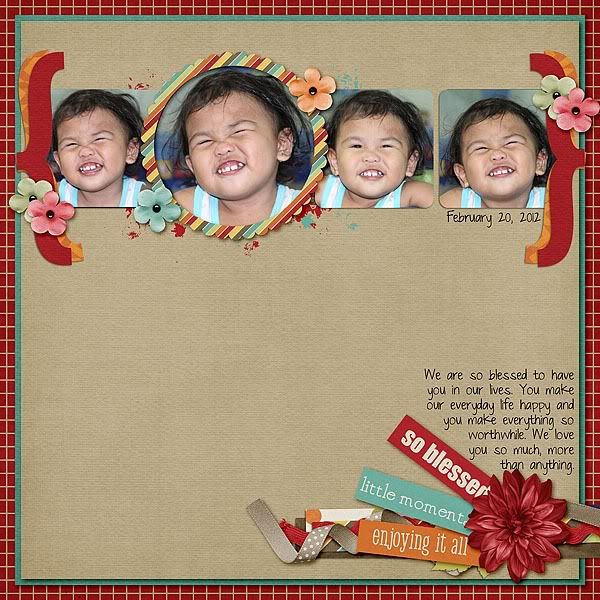 What is your favorite Blue Heart Scraps kit?
Chocolate Kisses.
Cherry is sweet on Blue Heart Scrap's Chocolate Kisses, so for today only get both pieces for $1 each!  Head on over to Blue Heart Scraps store now and get these great coordinating packs!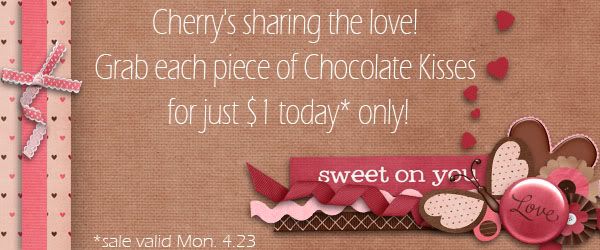 Meet the Team Monday! Plus sale!