Good Morning Friends!!
How was your (i)NSD weekend? There was SO much happening EVERYWHERE! I'm exhausted just thinking about it all.  I hope you all had an amazing weekend, scored some amazing goodies and scrapped some amazing layouts.

It's Meet the Team Monday again! Today we're talking to Amy [mommyscrapper].
Basics: My name is Amy and I have been married to my sweetheart for 15 1/2 years. I am a SAHM to two daughters 14 and 12, and three sons 10, 8 and 1 1/2.
How long have you been on the Blue Heart Scraps CT? I just joined in February of 2012
What is your favorite layout you've made using Blue Heart Scraps products?


These were some of my favorite pictures and the Showing Thanks Kit was just perfect for it.
Tell us about your scrapping experience: Did you ever paper scrap? When did you start digi-scrapping? How did you get started?
I started paper scrapping during high school and continued doing it while my kids were little. My friends would have a ladies night once a month and scrap the night away. After moving in 2005 all of my stuff was a little disorganized and I had lost motivation to pull it out and I didn't have anyone to go with anymore. I heard someone mention digi-scrapping and so I looked into it. For Christmas that year I received PSE 4 and I was hooked. No mess and saved so much time. I could make 1 page and print it 4 times for all of the kids books.
What program do you use?
I started with PSE 4. but I now use PS CS4
Can you share a tip or a piece of advice for your fellow digi scrappers out there?
You can't enjoy your pictures if they are hidden on your hard drive. Start scrapping so you can enjoy them.
Tell us something different about you: I am a bit of a do-it-yourselfer. It's hard for me to think of paying someone else to do something when I could do it myself or figure out how to do it. A few years ago I refinished a piano I bought from the classifieds and redid two chairs and a small table that belonged in my Grandma. Now my hands are full with a toddler and I ma lucky if I can get the laundry done and dinner on the table.
What is your favorite Blue Heart Scraps kit?
Showing Thanks. I have used it numerous times and each page looks different and unique. The kit just has so many options and is really versatile
Since Amy chose Showing Thanks as her favorite kit, you get it for just $1 TODAY ONLY! Talk about a super end to the NSD weekend. Head on over to Blue Heart Scraps store and grab it now!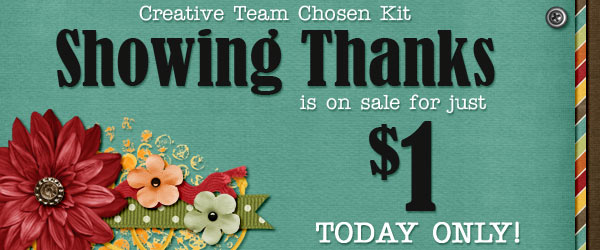 Meet the Team Monday and a sale you'll be THANKful for!