Good morning friends! We meet again! Another Monday, another lovely CT member to spotlight.
This morning it's all about Emma.
The Basics:
I'm Emma, 27 from Leicester in the Uk. Engaged to my partner of 7 years Alan. Together we have 2 Daughters Aimee is 6 (well will be on 26th feb) and Kaylee is 2 1/2.
How long have you been on the Blue Heart Scraps CT?
Since about August 2011
Tell us about your scrapping experience:Did you ever paper scrap? When did you start digi-scrapping? How did you get started?
I started digi scrapping in January 2010, i never did paper scrapping often thought about it but never got round to it. Before digi scrapping i did and still do make forum signatures.
What program do you use?
I use Photoshop CS4
What is your favorite layout you've made using Blue Heart Scraps products?
Can you share a tip or a piece of advice for your fellow digi scrappers out there?
Never be afraid to try different styles. Its fun to try something new.
Tell us something different about you:
The one thing I'm looking forward to in the future is our big house move 100 miles away. There's me, Alan (my partner) our 2 daughters, my future in-laws and my mum all moving to the same area. We cant wait to live near the seaside. Then I can get back to work as we will have more help with childcare as the in-laws will retire and take girls school for us and I can learn to drive and things will look up for us.
What is your favorite Blue Heart Scraps kit?
Although I love them all, Carefree Days is my fave, I just love the colours of that kit.
Emma loves Carefree Days and what's not to love?! Get Carefree Days for $1 TODAY ONLY!  Talk about the good life. 😉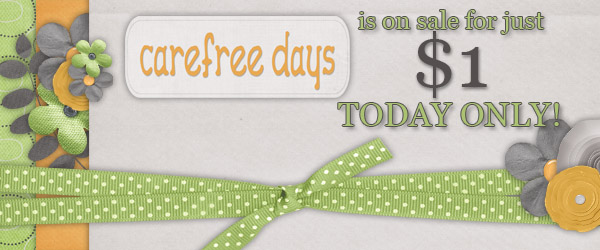 Meet the Team Monday and a feel-good sale!