Good morning everyone! Happy Monday! …and if it isn't, it will be!
Today you get to meet Debbie!
The Basics: My name is Debbie  and I live in Northern Kentucky, USA. I have been happily married for 32 years, with 2 children and 6 grandchildren.
How long have you been on the Blue Heart Scraps CT? 3 Months
Tell us about your scrapping experience: Did you ever paper scrap? When did you start digi-scrapping? How did you get started? I have been scrapping for about 7 years; I started out as a paper scrapping and soon discovered that the mess outweighed the fun. I discovered digi-scrapping about 3 years ago and have never went back to paper scrapping.
What program do you use? Photoshop Elements 9
What is your favorite layout you've made using Blue Heart Scraps products? 
Can you share a tip or a piece of advice for your fellow digi scrappers out there? Keep trying and never give up. Everybody's idea of their perfect layout is different and we must all develop our own style.
Tell us something different about you: I dream of being able to take my whole family to Disney World. I have 2 little granddaughters that I just would love to see them be princesses for the day(they are already princesses to me).
What is your favorite Blue Heart Scraps kit? Sugar High, this kit is so versatile and has amazing colors.
Ready to making your Monday morning SUPER SWEET?!  Since Debbie chose Sugar High as her favorite, it is on sale FOR $1 ONLY! Ready for a delicious bonus? Since JoyLynn loves us so, all the yummy coordinating packs are on sale for $1 each as well!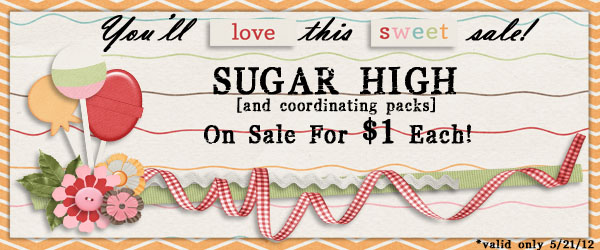 Why are you still here? Go go go on over to Blue Heart Scraps shop and grab these goodies now! 😀
Meet the Team Monday, plus a sale that's oh so sweet!