Good morning and a happy Memorial Day!
Today we get to meet Francine!
Basics: HI! My name is Francine or Scrapolina in the Forums and Galleries. I live in Central Florida with my DH and youngest Son, one GIANT dog, and two beautiful sweet cats. I have recently been able to go part time which I am really enjoying! Of course I "thought" when I turned 60 I would be retired! Then again, thinking about it I am much happier that I am still able to work and have my health:-)
How long have you been on the team? I have been on the team since February!
What is your favorite layout you've made using Blue Heart Scraps products?  This one is Sunshiney, I especially LOVED the ribbon roses provided in this kit!
What program do you use? I have been using Gimp but have just recently purchased Photoshop Elements 10. For some reason I just haven't been able to get it loaded. Probably because I think I will have to relearn everything I have struggled to learn over the past 2 years! But this reminds me of a positive experience!! I did paper scrapping for over 10 years creating quite an obsession for paper, buttons, ribbons…oh my!! (And I have a WHOLE room to prove it!!) Anyway, I shook my head and said Nooooooooooooooo…every time someone mentioned digital scrapping….because..what would become of all my goodies?? Would I ever touch them again?? Most of you already know this answer I think! LOL The door is shut most of the time and there is probably some dust collecting in there!
Can you share a tip or a piece of advice for your fellow digi scrappers out there? My tip to everyone is to always be trying new techniques. Save some time out of your busy schedules and search through tutorials and learn something new every week. This has really helped my progress!
Tell us something different about yourself: Another aspect of working part time is that I can travel more now. We have really shorted ourselves on vacations over the past years and hope to be making up for it! We have a huge trip planned for Las Vegas soon and will also be going to the Grand Canyon. That has been high on my wish list…(Las Vegas was on my DH's ) LOL! We can't wait to explore all the natural beauty of the U.S. So get ready in the gallery to see lots of pages from our trip!
What is your favorite Blue Heart Scraps kit? Gosh…there are so many it would be SO hard to pick, one of my favorites is definitely Sunshiney Day!
You know that that means? SUNSHINEY DAY is ONLY $1 TODAY!  This is definitely one kit you NEED in your stash.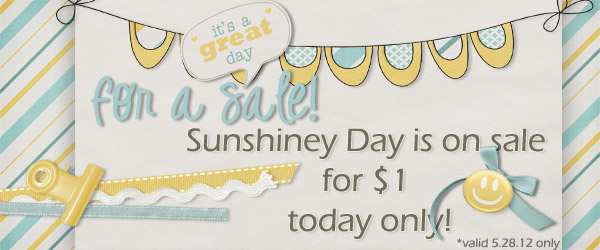 After you've picked up Sunshiney Day at this AMAZING price, make sure you stop by Francine's gallery and leave her some love. She has some pretty amazing layouts!
I hope everyone has had a happy holiday weekend- and let us not forget what we're truly celebrating! Thank a soldier today!
Meet the Team Monday plus a little sunshine to add to your day!