Good Monday morning to YOU, Blue Heart Scraps peeps! Happy June! June is my favorite month, mostly because it's my birthday month- but enough about me (you'll get that silliness next week)! We are here to talk all about Natasja, that's MissHappy1980 in the forums.
The Basics: Hi! My name is Natasja, I'm 31 years young (sounds so much better this way lol), I've been married since 14 may 2010 and a proud mom of a one year old.
I'm from the Netherlands, where I live in Apeldoorn.
How long have you been on the Blue Heart Scraps CT? Since the beginning of March this year.
Tell us about your scrapping experience:  I started six years ago with analog scrapping and I really still love it. But with the birth of my little one, we needed to make some space so my scrapping room got lost and everything is put in a big closet now. Then I decided to try digital scrapping as well so I could do that when I don't have so much time but am in a creative mood. I started digital scrapping last august and I must say: I'm really hooked!!!!
I just started to make my daughters birth album and I love how it's turning out!
What is your favorite layout you've made using Blue Heart Scraps products?
I just love this kit: Bouquet Of Blooms!  When I saw it I just knew that I needed to use my butterfly photos for this one.
What program do you use? I use Photoshop CS5
Can you share a tip or a piece of advice for your fellow digi scrappers out there? Don't be scared to try new things and most of all, have fun with it!
Tell us something different about you:  Something different…. Okay….. No just kidding! What you guys probably must know is that I'm a really big Disney fan! My husband always makes fun and says that I'm just a little girl and maybe he's a little bit right (please don't tell him! lol) I just really love the Disney Magic! I also love to go to zoos and other amusement parks, but Disneyland is the best. I would love to go to Disney World!
What is your favorite Blue Heart Scraps kit? Bouquet of Blooms! No doubt about it.
You should all know what that means by now! 😉 Well, let me tell you anyway because I do so love giving you all happy news! Bouquet of Blooms is on sale for just $1! Today only of course. And just because JoyLynn loves us all to pieces, each coordinating pack is $1 a piece too!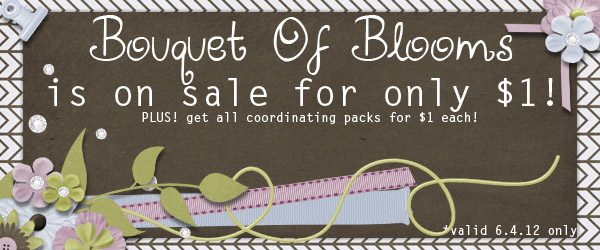 Happy shopping!

Meet the Team Monday and bonus sale!