I've had so much fun meeting the team I am so proud to be apart of, I sure hope you have too! Now it's my turn to "get in front of the camera" , if you will. So.. let's just jump right in!
The Basics:  Helloooo! My name is April (known as mamaape in the forums), for anyone who doesn't know yet. 😉 I am a very nearly 29 year old (like, 19 days away!) stay-at-home mommy to one very totally awesome little 18 month old dude. A few short months ago I celebrated my third anniversary with my husband. I have two furry children, a pup who's 5 and a cat who's just about 20 (she totally doesn't act her age though 😉 ). Our little family lives in southern Wisconsin, where I've lived most of my life.
How long have you been on the Blue Heart Scraps CT? I just joined JoyLynn's team at the beginning of April, this year. Time certainly flies when you're having fun!
Tell us about your scrapping experience: I tried paper scrapping a few years ago, and by try I mean I bought a WHOLE LOT OF supplies and never did a thing with them except just collect and collect and collect. I did do some paper craft though (photo frames) but just never got into it as I had hoped for. I ended up selling the vast majority of my collection and chalked it up to another hobby that just wasn't for me. Then… I discovered digital scrapbooking in January of just this year through a giveaway on a friend's blog. From that moment on I have been ADDICTED! Whether it's paging through the endless amount of layouts in galleries, working on challenges, or hoarding kits I just can't stop. At least this time it doesn't waste any closet space. 😉
What is your favorite layout you've made using Blue Heart Scraps products?
This layout has got to be my most favorite thus far. The versatility of the kit, L8terSk8ter, really surprised me and I fell in love with my layout the more it fell into place. I'm also a HUGE sucker for templates, I just can't get enough of them and this was no exception. I used Blue Heart Scraps Across the Line Template(s).
What program do you use? I use Adobe Photoshop CS5
Can you share a tip or a piece of advice for your fellow digi scrappers out there? One of the pieces of advice I often see is keep learning new things! The amount of things to learn about Digital Scrapping is far more than I ever thought when I first started. I also think another very important thing to remember is to scrap for yourself. Not for anyone else. Regardless of challenges, or contests, or whatever- always create for you. If you're not happy, it's not worth it.
Tell us something different about you:  I always feel like this is such a tricky thing to respond to! I'll say this: I hate roller coasters, I have a SEVERE phobia of bugs, I want two more children, I LOVE foreign films and my engagement/wedding ring was custom made (no other ring(s) like it!).
What is your favorite Blue Heart Scraps kit? This is an extremely difficult question, because it's true that I so totally love SO many of Blue Heart Scraps' kits. Recently however, I've grown quite fond of Colors of My Life: Teal.
It's great for 365/52 layouts because of the day/month tags and the THREE alphas. Plus, I absolutely love the color grey, so that's just an automatic yes! for me.

JoyLynn has put each of these (elements, papers, alphas) on sale for $1 each (*today only)!  If you don't already have this set in your stash, now's the chance to grab it at 50% off! I just love the pop of color, and papery flowers. Those are my favorite.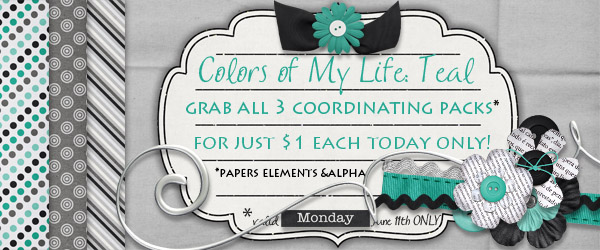 Now that you've met the whole team, stay tuned for some new and exciting things to happen on Mondays!
Meet the Team Monday: Last but not least!