*clears throat*  I have a LOT to say, and show to you all, today – so grab a drink, sit back and relax.  There is a freebie at the end, so it's worth reading to the bottom…but don't scroll too fast or you'll miss all the good stuff!

Happy October 1st!  I know I say it every month, but if you ask me, this year is flying by at an exceptionally fast rate –  and I don't like that too much!  I'm enjoying the cooler weather, and the football (both college and my son's flag football team), though.  Cool temps, falling leaves, and pumpkins – Fall does bring lots of wonderful things our way.  And, for this month's GingerScraps Buffet, the designers are celebrating the awesomeness of fall with some gorgeous new autumn inspired goodies!
I have seven new Fall Festival buffet packs for you this month, and I just hope that YOU love them as much as I do!

Elements  –  Papers  –  Clusters  –  Flairs
Border Clusters  –  Stacked Papers  –  Quick Pages
Gorgeous, right?  😉  Just wait til you see the rest of the gorgeous goodies from the rest of the GingerScraps designers.  Once again, they've blown away both the colors AND the theme for the month.  And, even better?  Each portion is on sale for just $1.50 through October 5th, so be sure to shop soon – I'd hate for you to miss out on all the great goodies! 

Check out the gorgeous layouts created by my incredibly talented Creative Team girls:

Love, love, love! 😀  BUT, that's not the only great sales going on at GingerScraps right now!  The first of the month also means the $1 Bake Sale, and as usual, I've got lots of great products in the sale just waiting for to load your cart with and enjoy.  And, it's ALL on sale for just $1 each through October 5th.  Score! 

First up is the Away We Go Elements and Away We Go Papers from the July Buffet, and it's perfect for finishing up those summer vacation layouts: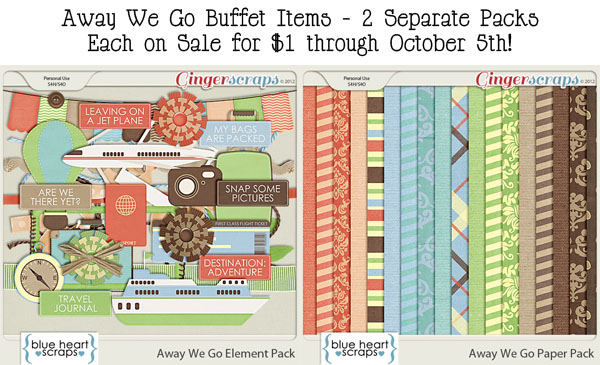 I also have all of my Once Upon A Time Buffet items.  There's the Once Upon A Time Alpha, the Once Upon A Time Elements, the Once Upon A Time Clusters, the Once Upon A Time Plain Papers, the Once Upon A Time Patterned Papers, the Once Upon A Time Paper Stacks, and the Once Upon A Time Quick Pages

Life isn't always a fairytale…but when we find those magical moments, it's important not to let them pass without preserving those memories!
And, last but not least, a new freebie…because, if you've made it this far down in the post, you deserve a reward, lol.  This pack of border cluster freebies was made by April using the new Fall Festival Buffet items.  Aren't the gorgeous!?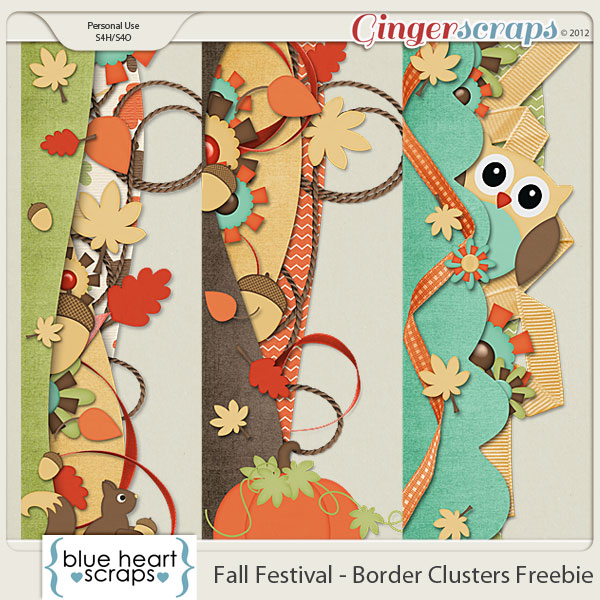 I also have a new Facebook Exclusive Freebie today (will upload it as soon as I publish this post), so be sure to stop by the Blue Heart Scraps Facebook Page to download!


(a sneak peek of the FB freebie is below:)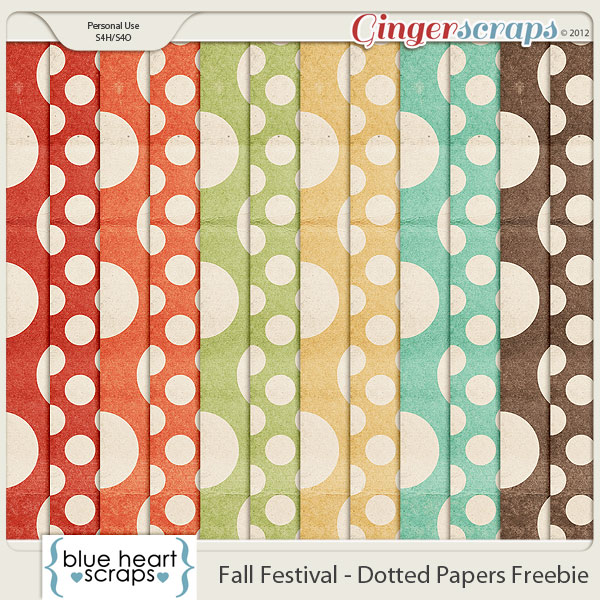 Fall Festival, $1 Bake Sale & Freebie!