Happy Friday!  It's new release day at GingerScraps and I have a gorgeous new $5 Grab Bag collection that I can't WAIT for you to see!  Inspired by gorgeous jewel tones, perfect for the autumn season, and the attitude of gratitude we all need to have this holiday season.
When I picked the colors for Be Grateful, I thought of my mom. Two years ago this week, she suffered a medical emergency that left me frozen in fear.  For two long weeks we waited, hoping beyond hope (and anxiously awaiting the results of test after test) that the doctors could do something to help her.  In the end, she withstood a difficult, stressful, and medically scary year and a half…but she survived, and that's what matters most.  Last Friday, she celebrated her 70th birthday (though she might kill me to know I posted that year for all to see, lol)…and so my mind these past few weeks has been filled with the realization of just how blessed we are in this life, even when it's not an easy one. I hope the love for my mother shines through in this special kit, and helps you document all that you are grateful for, too.
BeGrateful $5 Grab Bag
There are so many things in this life to be thankful for, and the Be Grateful $5 Grab Bag is the perfect digital scrapbooking kit to help you easily scrap about them all!
$5 Grab Bag includes:
full kit (7 plain/14 patterned papers and 66 elements)
8 journal cards
12 flairs
15 ombre papers
*Limited Time Offer — Grab It Now!*
Check out these gorgeous layouts from my ever talented creative team ladies:
It's also Bake Sale time at GingerScraps — 5 days of fabulous goodies priced at only $1 each!  I've got three more fabulous additions to the Bake Sale category this month — be sure to grab them while they're on sale!
The Newsletter Nuggets will be starting back in January — if you're not yet receiving my newsletter, be sure to sign up before then!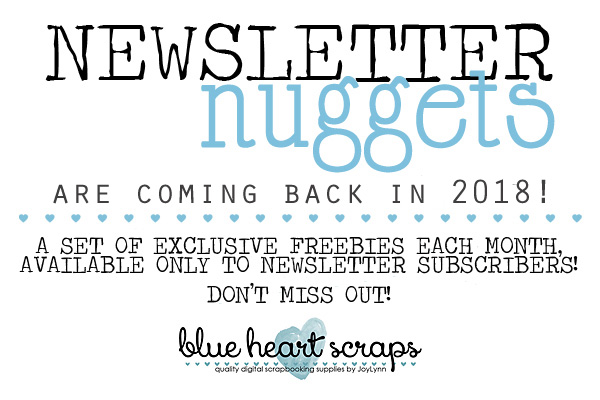 Though I've been including freebies in most newsletters the past few months, I haven't done an "official" set of Newsletter Nuggets in a while.  However, that all changes in January!  Be sure you're signed up in time!