DSD weekend is finally here and I am SO excited! 🙂  It's not the sales (though, those are sure nice!), or the coupons, or the tons of great new releases and freebies.  It's the atmosphere in the digital scrapbooking community.  The excitement, the enthusiasm – it's contagious! (It's the same way in the stores and malls on Black Friday…and the reason that's the only day out of the year that I actually WANT to go shopping, lol!)  I have a TON of new goodies for you today, though…so grab a drink, sit back, and get ready to 'ooh' and 'ahh' at the beauty of it all, ok?  🙂
First up, a gorgeous new kit to celebrate the rich colors of fall.  Harvest your happy Fall memories! The beauty of Autumn never ceases to amaze, the falling leaves, the smells, the way family just naturally comes together a little bit closer. Celebrate it all with Happy Fall Y'all!. The simple joys in life are often the greatest.
Grab the Happy Fall Y'all kit, the matching flairs, journal cards and quickpages
Also new today, two new Commercial Use paper template packs:
Buy Simply Striped Vol. 1, Simply Striped Vol. 2 OR Buy the Simply Striped Bundle & Save!
I also have a fun new collab with Jennifer of Luv Ewe Designs!  What better way to celebrate your love for scrapbooking than with a scrapbooking kit! Whether you get your fingers messy with scissors and glue or relish the comfort and ease of your mouse and undo button, the Oh Scrap! collab kit is perfect.  The Oh Scrap! Collab comes with 28 papers, one alpha (uppercase, numbers, and some punctuation) and more than 80 elements for your scrapping convenience!
Buy the Oh Scrap! Collab today!
And the best thing about all of those new GingerScraps releases?  They're 50% off!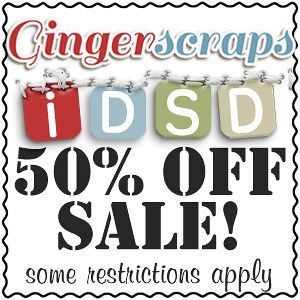 *deep breath*  Are you done?  Because I'm sure not! 🙂
I'm excited about the opportunity to open up a guest store at BrownieScraps starting November 1st. (BrownieScraps is doing a Blog Hop for DSD – check out THIS POST for my portion!) For those of you following my designs for a bit know that this is actually returning to a store I was at once before. But, boy have things changed since I left! 🙂  BrownieScraps is not a template-only store (and the first of its kind that I know of).  The talent and inspiration at BrownieScraps is incredibly inspiring, and my fingers are just itching with ideas for fun new templates while I'm there!
In honor of my BrownieScraps guest store, and their DSD celebration, I have two template bundle releases for you this weekend…and trust me when I say, for the price I'm selling these, you do NOT want to miss out! 😀
This Doubled Up Template Bundle includes 3 packs of 24×12 inch double page layered templates.  Each template is provided in PSD, TIF and individual PNG files for your convenience.
This Rewind Template Bundle includes 3 packs of 2 (two) 12×12 inch layered templates.  Each template is provided in PSD, TIF and individual PNG files for your convenience.
And, each template bundle pack is on sale for just $2.00 EACH!  That's right, $2.00!  Wow, right?  That's just 33 cents a template page!
And, last but not least, join me in the GingerScraps chatroom this DSD weekend for a template scrap and chat.  I'll provide you with a free template to create a layout with before the weekend's up, and then we'll spend the hour chatting! 🙂 Hope to see you there 🙂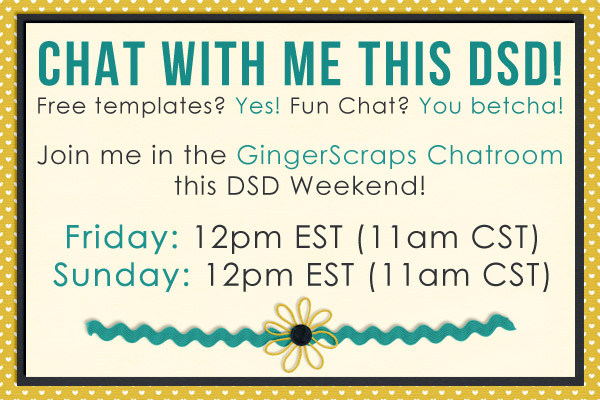 DSD New Releases & Chat Info!