I love new release dates!  I get so excited when I work on and finish a kit – and can't wait to show it to all of you, hoping you'll love it just as much as I do.  This week's new release is dedicated to those grungy, punk-ish, wild and free boys (both those who love to skate and those who don't), and the people who love to scrap their pages.
L8ter Sk8ter is a totally rad kit for all your boy (and non boy!) layouts.  Kit comes complete with 21 Papers and 52 Elements.
And it's now available at both Brownie Scraps and Polka Dot Plum!
Some gorgeous layouts by my talented CT gals, the CT for Brownie Scraps and the CT for Polka Dot Plum:
Thanks for the comments on Sunday's Sneak Peek post.  I let Random.org pick a winner.  Congrats Suzan!  🙂  I'll have your coupon code to you later this afternoon!  🙂
And last but certainly not least, a beautiful freebie to share with all of you – an alpha to coordinate with L8ter Sk8ter, created by one of my wonderfully talented CT Gals, Kim!  🙂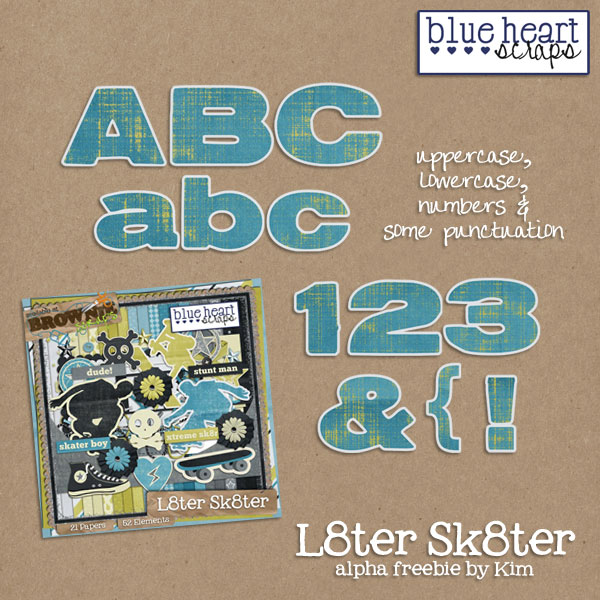 I hope you all have an incredible Thanksgiving holiday, filled with great food, great company and lots of wonderful memories to scrap.  And, if you go shopping on Friday, enjoy yourself!
I'll be back Friday with another gorgeous freebie, and next week I have some SUPER exciting news to share (I'm so excited I can hardly contain myself!!! Eeks!)  Be on the lookout for my exciting new journey announcement, and helping me celebrate!  🙂
New Release: L8ter Sk8ter, Winner & Freebie!