Happy Friday, Scrappers!
The weekend is almost upon us, which means it is time to visit that fickle rascal, Mr. Rand E. Miser, for his decision on who our lucky winner is for this week's Sneak Peek & Comment to Win. One moment while I get his attention…ah, here we go. Oh, nice pick, Rand! Congratulations to the author of comment #6, Patricia! You are this week's winner and will receive a copy of today's new release for free! Please send JoyLynn an email with "Sneak Peek Winner 11/11/16" in the subject line to, joylynn@blueheartscraps.com so she can arrange for you to receive your prize.
We would love to see what you create with your new treasure, so feel free to share the inspiration by posting your wonderful pages in the Blue Heart Scraps Gallery  where we can all ooh and ahh over them. And don't forget, by posting in the gallery, you automatically become eligible for the Wednesday GSO prize – a free kit or template pack of your choice (sorry, no $5 grab bags, bundles, or collabs) from Blue Heart Scraps store!
Would anyone care to see what Patricia just won? I had a sneaking suspicion that your answer would be yes, so I brought along a preview to share with you. Without further ado, here is today's new release, Where I Came From, by Blue Heart Scraps.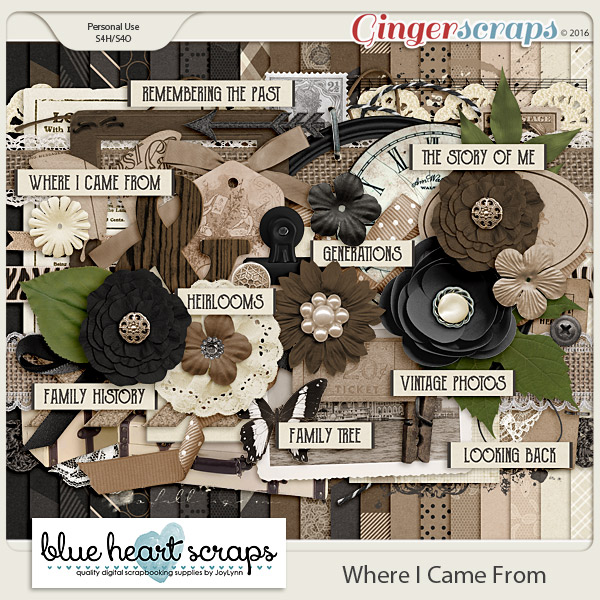 Don't you love it? Quiet elegance. That is what pops into my head when I look at this kit. There is something so soothing about the earth tones and the vintage theme running throughout. Just beautiful! I haven't had much time for scrapping lately, but I can hardly wait to play with Where I Came From!
That is all for today, folks.  Thanks for stopping by and listening to my ramblings. And again, a big congrats to Patricia! Enjoy your prize!
Until next time, keep on scrapping!
Sheri
Sneak Peek Winner & New Release Reveal