Man, I have been busy today, lol!  My guest store at Funky Playground Designs is open.  I'm hosting the May Color Challenge at GingerScraps, and have included a small paper pack freebie to get you started.  And, now I'm back to tell you about some things I completely forgot to tell you about in my first blog post this morning!
First, though, let's get this week's Tuesday Treats freebie out of the way.  I've got lots of fun, wonderful goodness to talk to you about below, but you can be downloading while you're reading.  🙂
This week's freebie is a cluster frame made by April using the My Cake Day kit.  Super, super cute, right?  That sweet little boy in the picture?  That's my youngest, Hayden, who just celebrated his 4th birthday on Sunday.  Seemed only fitting that I'd share the 'birthday' frame with a picture of my adorable 'birthday boy'.  🙂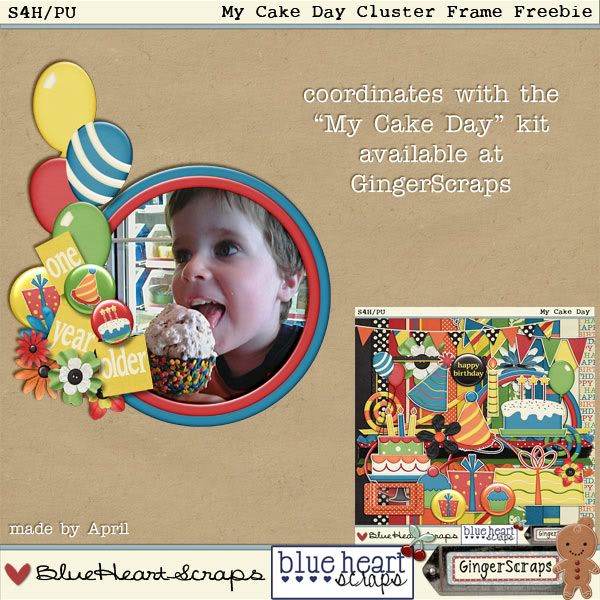 The first of the month means the $1 Buffet and Bake Sale at GingerScraps.  I didn't get a chance to participate in the Buffet this month (though, there's some gorgeous stuff there, so be sure to check it out here!), but I do have 6 great products added to the $1 Bake Sale.  They're only on sale for$1 through the 5th of the month, so be sure to stock up now!
My $1 products this month:
Also, I supplied the kit for this month's May Daily Download at GingerScraps.  Each day during the month of May, you can download a portion of the kit on the GingerScraps blog.  This month's kit is full of bright, fun, fresh & fruity colors.  Check out the sneak peek below for a small taste of what you can download for free this month: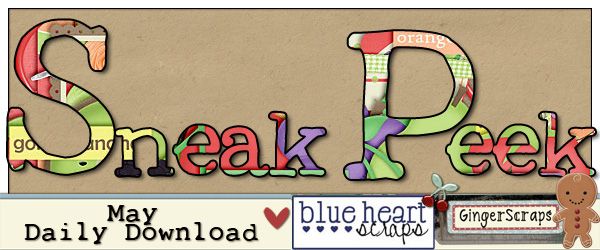 And, this weekend is iNSD.  I'm sure most of you know that already…but did you know that the designers at GingerScraps have been prepping our hearts out, so that we can fill your weekend with tons of wonderful fun?  Take a peek at just a few of the things planned for this weekend: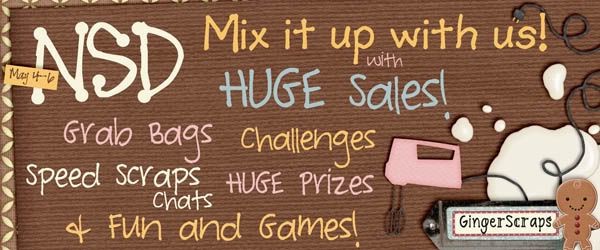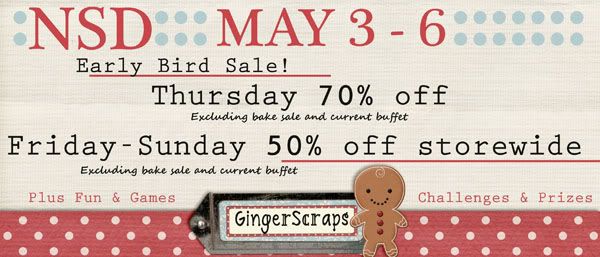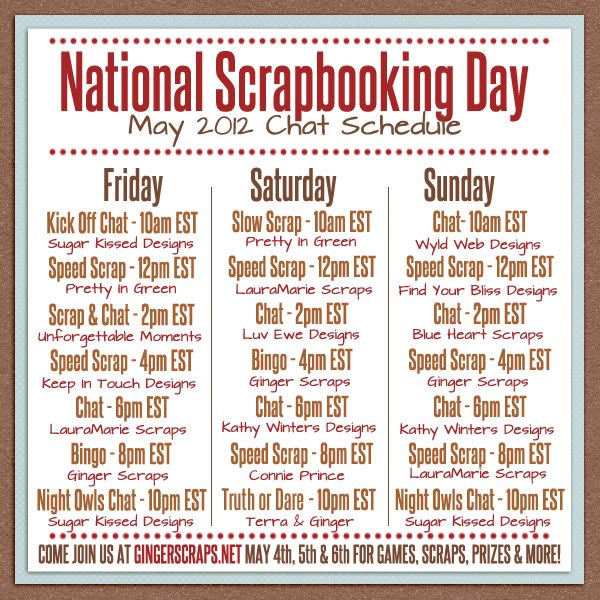 I'll be back tomorrow with a little sneak peek of some of the new goodies you can expect from me this weekend.  But for not, I need to rest my fingers.  I've been a typing fool all day long!  🙂
Tuesday Treats Freebie, $1 Bake Sale & Prepping for iNSD!