My boys started back to school this past Wednesday (yes, we start earlier and earlier each year *sigh*), so it's all homework and early bed times and blaring alarms bright and early in the morning around my house right now. Sounds like loads of fun, right?!  But…it also means new school supplies, and that makes me HAPPY! (I LOVE school supplies!)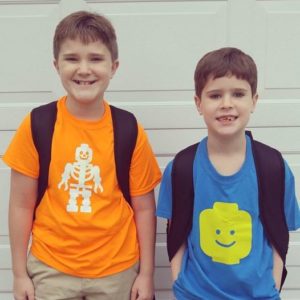 (my boys on their first day) 🙂
So, for today's Free Font Fun, we're going School Style with some fun and funky school themed fonts!
From an old typewriter inspired font to a cute pencil dingbat, I'm sure you'll find at least something you like!
Interested in downloading one (or more!) of the fonts?  Simply click that specific font preview image below!
And, for your Wizardry fans, you need your own "Back To School" font, too! 😉
(now, back to reading Harry Potter and the Cursed Child)