One of my personal goals for 2016 is to focus on scrapping a bit more – or, any at all.  I've spent the past few years heavily focused on the designing part of this adventure, and completely ignored what brought me into this digital world to begin with.  As I've worked more on creating my own layouts, I've attempted to fit myself into a specific scrapping style…but that's hard (unless mommy scrapper is a style – because that's certainly what I am!)
One thing I do know is that I LOVE the look of pocket scrapping, and wish (so, so hard) that I could effectively produce layouts in that genre.  I mean, the simplistic style, the gorgeous journal cards, the beautiful way the story of the layout is told more in pictures than words…which would work well for me, because I always struggle ridiculously with the journaling aspect of a layout.  And, if you follow the process through the entire year — one of the more popular pocket scrapping approaches is to do a double page each week, or month, showing the major and minor events of the week, but could easily be built around a specific category, etc — you wind up with an easily printable book!  How much more awesome could digital scrapping be?!
Only within the past few months did I begin to create some pocket scrapping template packs, so there's not many in my store right now:
I do have LOTS of great journal card packs – a must when pocket scrapping, and have more packs of both cards AND templates planned for this year!
Just a few of my more recent journal card packs: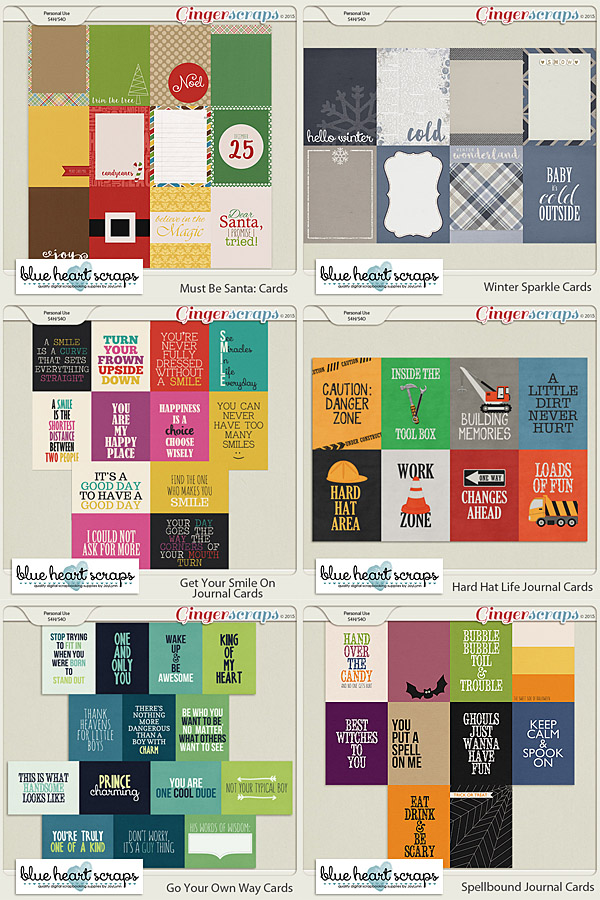 The rest of the GingerScraps designers have a ton of templates and cards in the store.  Check out the Pocket Scrapbooking store category to see the huge selection of goodies!
I try not to set too many yearly goals or resolutions for myself (I know I'll wind up breaking most of them anyway, lol)…and I'm already off to a late start prepping for book this year.  But, that is my hope for 2016 – to finish the year with a fully printed pocket scrapping book.  I guess we'll look back this time next year to see if I managed to complete it or not, right? 🙂
If you pocket scrap (or follow along with the P52/Project Life series), do you have any fun pointers?  Any tips to make it less stressful (ok, that's probably all in my head, lol)
Anyone willing to take the year of pocket scrapping challenge with me? 🙂
For the sake of this post, I did manage to get my week 1 layout done for 2016 – I may wind up regret going with a double page style…but we'll see.  I can already tell I don't take enough pictures, though — must take many, many more in the coming year!
Check out some of the gorgeous pocket scrapping layouts from my GingerScraps designer gallery – fabulous examples of pocket scrapping at its finest:
What's Your Scrapping Style?